Blessed Boarding
We are a Cage Free Boarding Facility
For your pet's safety our yard is fenced in. The home is equipped with a security system for break-in, smoke, heat and fire for visual monitoring.
Furry Blessings is operated just like a "people hotel." You are charged for the day the pet arrives regardless of check-in time. There is no charge for the day of departure, provided check-out time is prior to 11 a.m. Check outs after 11 a.m. will be charged for that day's boarding.
Items to pack for your pets stay: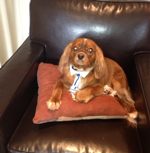 Divine Doggie Daycare
We are a Cage Free Boarding Facility
We understand Pet Owners are extremely busy in today's world and sometimes pets are forgotten or left alone. Pets who are bored and / or lonely can become destructive and develop bad behavior in a way to act out for more attention.
The answer to this is DAYCARE. Doggie Daycare provides your dog with: Lots of love from pet lovers all day long and daily exercise and socialization with other dogs.
Requirements:
Age: Puppies must be at least 16 weeks of age (4 months)
Proof of Vaccinations is required:
(Failure to provide will result in denial or cancellation of services)
Rabies: Yearly or every 3 years

Bordetella: (Kennel Cough) once every 6 months
All pets entering Furry Blessings must have vaccinations administered a minimum of 3 days prior to check in, including the Bordetella (kennel cough) which is required every 6 months.
For the safety of our guests, reservations will not be honored for vaccinations administered less than 72 hours (2days) prior to check in.
Entrance Examination:
All pets will be examined upon entering the lodge. If fleas and or tics are identified the pet will receive an automatic bath at the owner's expense. Any mediacl or other problems will be addressed at this time with the owner. All pets are required to wear a collar with identification.
Thank you for your cooperation in our effort to keep Furry Blessings safe for all pets.

For Reservations Call:
561.929.0736